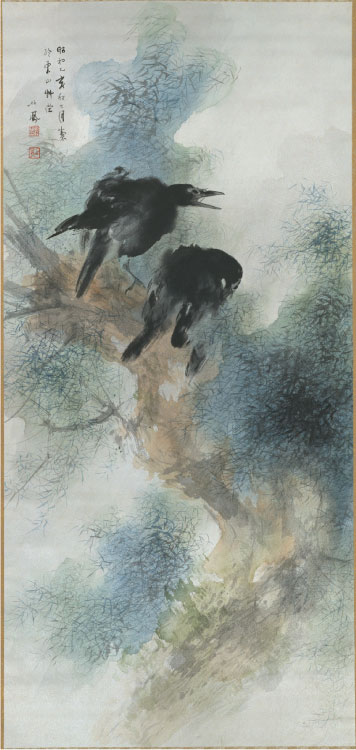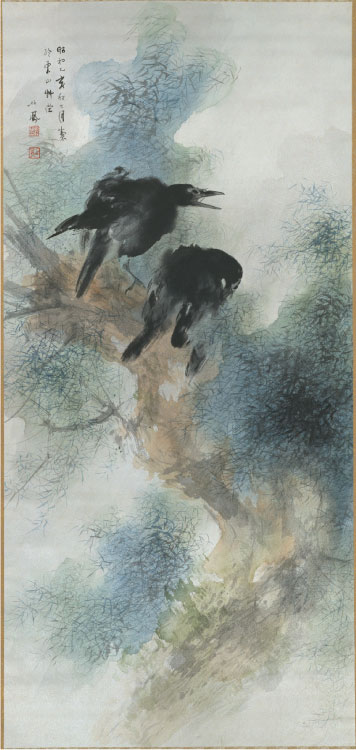 After a Squall
1935
Takeuchi Seiho (1864-1942)
Work Descriptions
The moment after the passage of a sudden rain shower. Two crows are perched on a willow branch. One preens, and the other caws. The dewy crow feathers, fresh green willow leaves, damp air and glittering sunlight are expressed with a brush containing plenty of water, which conveys the abundant feeling present in the volatility of nature.
1935
Sumi ink and pigment on paper; hanging scroll
194.0 × 91.5 cm
Takeuchi Seiho
Takeuchi Seiho was born in Kyoto City. He studied under Kono Baireiand was regarded as one of Kono's four best painting students. Takeuchi went to Europe to see the 1900 International Exposition in Paris. He was active from the start of Ministry of Education Art Exhibitions and worked as one of the Imperial Household Artists.In addition, he led the modernization of Kyoto's painting circles by fusing factions, including Western paintings. He also explored unique perspectives of nature and life and the simplification of brushstrokes.