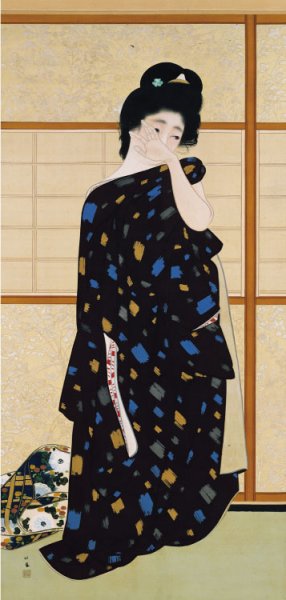 Posing for the First Time
1913
Takeuchi Seiho (1864-1942)
Work Descriptions
A woman standing in front of a sliding paper door hides her flushed expression by holding her hand in front of her face and averting her eyes. Her untied kimono sash lies at her feet, and she holds on tightly to the kimono that she had taken off, using it to cover her body. The blue, ash, and ocher patterns appear to be swirling, which implies the psychological state of the embarrassed woman.
1913
Pigment on silk; hanging scroll
183.1 × 87.4 cm
Takeuchi Seiho
Takeuchi Seiho was born in Kyoto City. He studied under Kono Baireiand was regarded as one of Kono's four best painting students. Takeuchi went to Europe to see the 1900 International Exposition in Paris. He was active from the start of Ministry of Education Art Exhibitions and worked as one of the Imperial Household Artists.In addition, he led the modernization of Kyoto's painting circles by fusing factions, including Western paintings. He also explored unique perspectives of nature and life and the simplification of brushstrokes.