Infomation
Kyoto City KYOCERA Museum of Art May 26 2020 Opening
2020/5/18
The Kyoto City KYOCERA Museum of Art Renewal Reopening originally scheduled for March 21 was postponed to prevent the spread of Covid19. Following the May 15th official declaration lifting the state of emergency in Kyoto Prefecture, the Museum is now scheduled to open on May 26.
Until further notice, visitors are to be limited to residents of Kyoto Prefecture, advance reservations are required, and temperature checks will be performed prior to entrance. Persons without advance bookings will not be permitted to enter the Museum or to use museum cafes and shops or other free access areas of the Museum.
Please note: The Museum will promptly give notice should the opening date be further changed due to unforeseen developments in the coronavirus outbreak.
1. The Museum will open on Tuesday, May 26, 2020 at 10:00 am
2. Admission by advance reservation
– Separate Reservations are required for each exhibition
– Only Kyoto Prefecture residents will be permitted entrance. (including accompanying persons; reservation will be cancelled and null in the case of residents from other prefectures.)
– Persons holding previously issued invitation or advance tickets are also obliged to make advance reservations at this time.
(a) Advance Reservation Schedule
May 26 (Tue) – June 7 (Sun)
*The Museum is closed on Monday, June 1, 2020
*Depending on conditions related to COVID-19, advance reservation requirements may extend beyond June 7. Please check our website for updates and notice of schedule revision.
(b) Exhibitions subject to reservation requirement
1. HIROSHI SUGIMOTO – POST VITAM
2. Collection Room Spring
*Separate advance reservations are necessary for each exhibition
(c) Attendance Limitation
50 persons will be admitted at 30 minute intervals
*Please be present at the main entrance at your appointed reserved time.
(d) How to Reserve
1. Reservations will be accepted by phone 075-761-0239, or on our website https://reserva.be/kyotocitykyoceramuseum
2. Reservations will be accepted from May 22 (Friday) until one day before the desired viewing date.
*Phone reservation is available from 10 am to 6 pm; website reservation is available from 10:00 am on May 22 and 24 hours a day thereafter.
*Reservations are available on a first come first serve basis
*Please be ready to provide the names, addresses, and phone numbers of all persons wishing to attend.
(e) Notice
1. Pay for reserved tickets at the ticket counter on the day of attendance
2. Applications for groups of more than 4 persons are not accepted
3. Exhibition viewing time is limited to one hour
4. Masks are required inside the Museum building
5. Persons having a cold will not be admitted
3. Body Temperature Check
Regardless of reservation, persons with temperatures of 37.5 or higher will not be permitted to enter the Museum. Thermography will be used to get accurate readings while protecting privacy.
4. Measures Against Transmission of Infectious Disease
– Provision of antiseptic hand sanitizing solution
– Regular and constant disinfection of handrails, coin lockers, etc.
– Staff temperature monitoring, and use of protective masks
5. Exhibition New Schedule
Please see the this page.
6. Night Illumination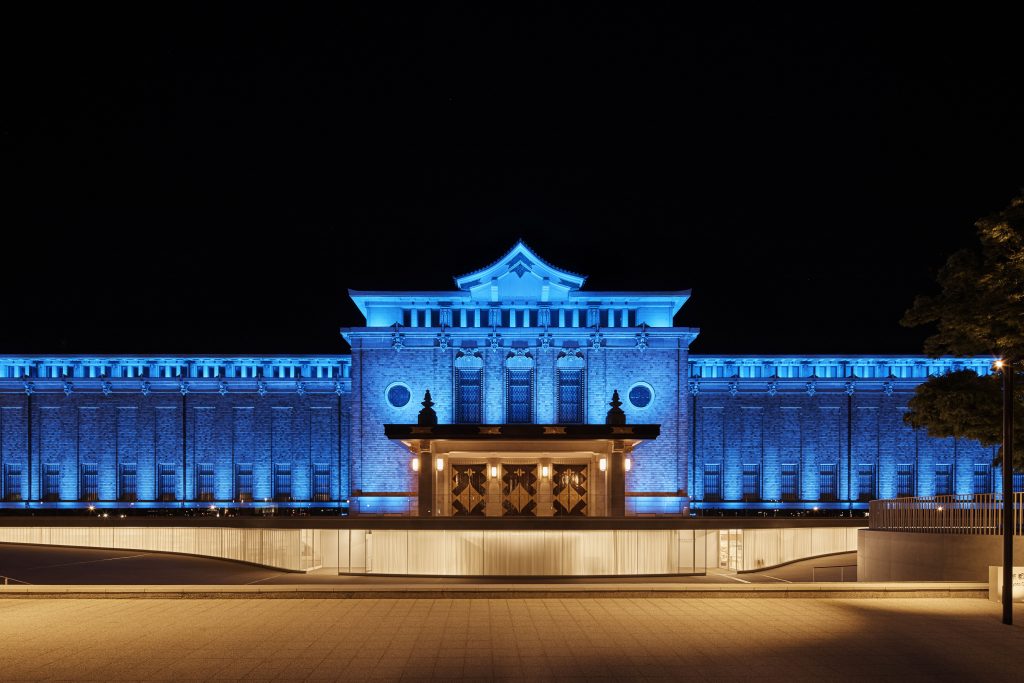 Photo: Murakami Mito
In conjunction with renewal, the main building façade was fitted with lighting installed to permanently illuminate the Okazaki night landscape. Normally, lighting would be color coordinated with seasonal changes following the ancient 24 season calendar (24 Sekki 24節気), each 'season' lasting 15 days. Joining the initiative of buildings and facilities throughout the world to use blue illumination to honor medical staff at the forefront of the Covid-19 outbreak, the Kyoto City KYOCERA Museum of Art illumination will be in blue for the opening on May 26, 2020.
Start on May 26 (Tue)-
Hours: 19:00-22:00
Artist: Takahashi Kyota