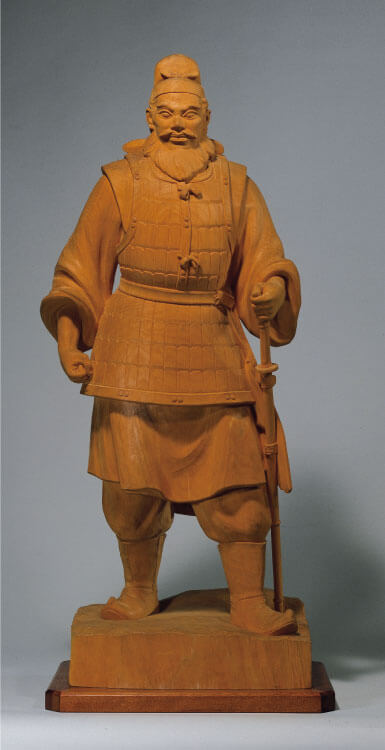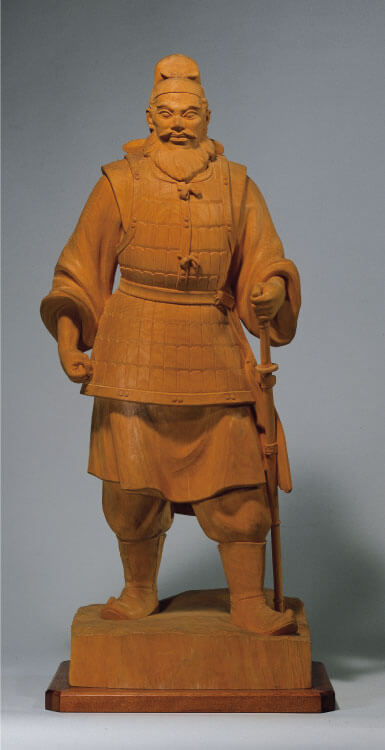 Sakanoue no Tamuramaro, General and Shogun Who Lived 1,200 Years Ago
1934
Yamazaki Choun (1867-1954)
Work Descriptions
An armor-clad warrior stands with his left foot forward, a sword in his left hand, and his right hand clenched into a fist. His large eyes are wide open, and he has a prominent nose, thick lips, and a full mustache and beard.This dignified, gallant figure looks ready to go to battle, and was captured through a sculpting technique passed down from traditional wood carving dating back to the medieval ages.
1934
Wood
99.5 × 43.0 × 23.0 cm
Yamazaki Choun
Yamazaki Choun was born in Fukuoka City. He studied under Takada Matashiro, a sculptor of Buddhist images. His work won 3rd prize for exquisite skill at the 4th National Industrial Exposition. Yamazaki released technically brilliant works in which he complemented wood carving technique with the realistic expression of Western-style sculpting. He worked as an Imperial Household Artist. In his final years, he devoted himself to the production of Buddhist statues and idols.