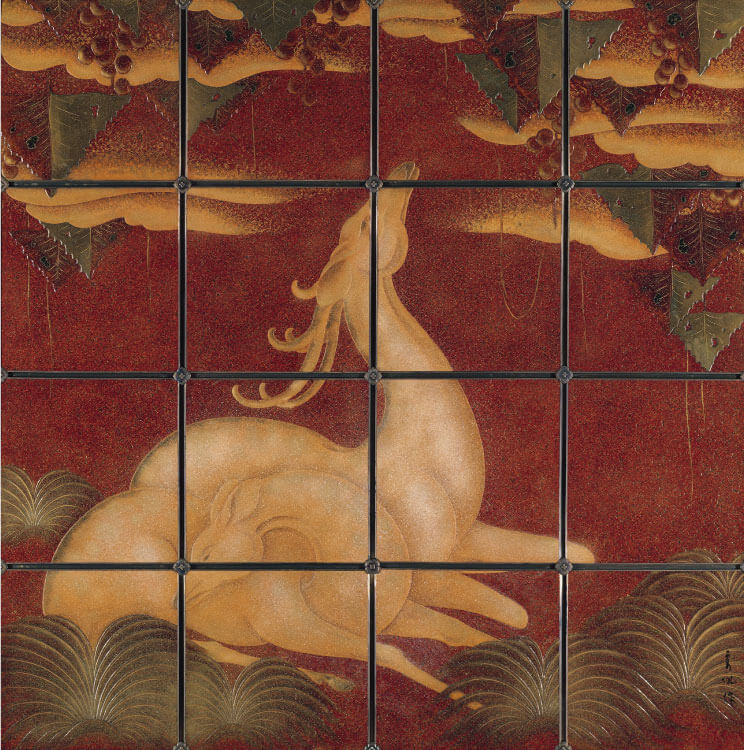 Lacquered Panels "Deer"
1937
Okumura Kajo (1893-1937)
Work Descriptions
A male and female deer look up at grapes that hang between lingering golden clouds. The flowing, curved shape of the deer and the curved lines of the undergrowth create a modern feel. The artist rendered the image in lacquer and metal on a large panel piece made of joined cork boards in an effort to create a Japanese lacquerware furnishing that blends well with modern architecture.
1937
Lacquer on chipboard; framed
172.0 × 172.0 cm
Okumura Kajo
Okumura Kajo was born in Kyoto City. After graduating from the department of lacquering of Kyoto City School of Arts and Crafts, he studied under Iwamura Koshin, and later studied gold and silver lacquering under Funahashi Shumin in Tokyo.He won his first prize at the 10th Imperial Academy Art Exhibition. He brought fresh designs and compositions into traditional themes with the animal and plant motifs. Despite his promising future, Okumura died young in his mid-40s.