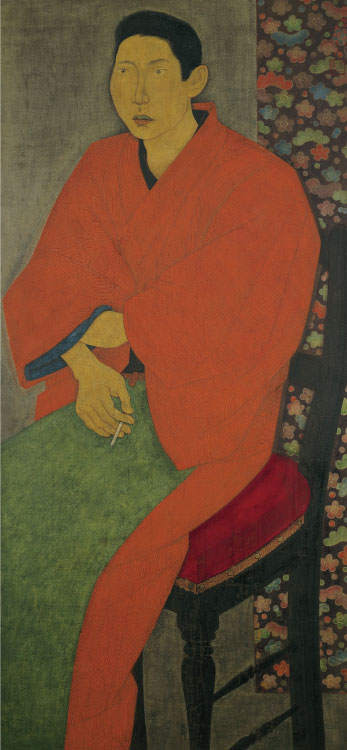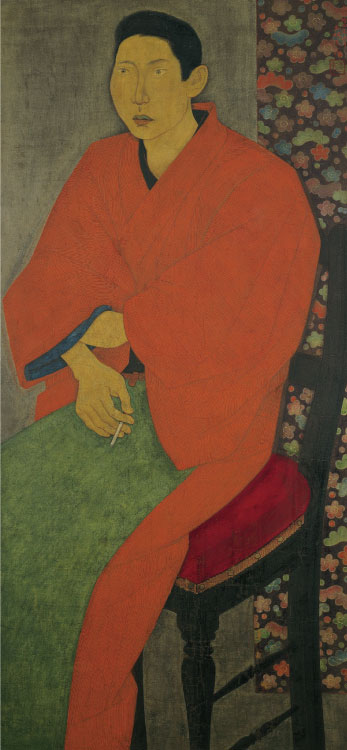 Portrait of Ukichi
1926
Tamaki Suekazu (1897-1943)
Work Descriptions
The head clerk of a mercantile house sits in a chair and smokes a cigarette. With his hand in his opposite sleeve, his posture is reserved, yet his expression has the look of a glare, which suggests unstable feelings somewhere within. The truncated lines and bold color composition, the contrast between the fine lines of the vermilion kimono and the green texture of the apron, and other elements of the creative modeling highlight the complex psychology of the young man.
1926
Pigment on silk; framed
136.0 × 63.0 cm
Tamaki Suekazu
Tamaki Suekazu was born in Sakai City. He studied at the Kyoto City School of Painting. After receiving a scholarship at the Kokuga-Sosaku Japanese Painting Association's 5th exhibition, he became its associate member. After the association dissolved, he founded a private school of painting with like-minded people. Tamaki painted original human figures that emphasized the personalities of the models with decorative expressions.