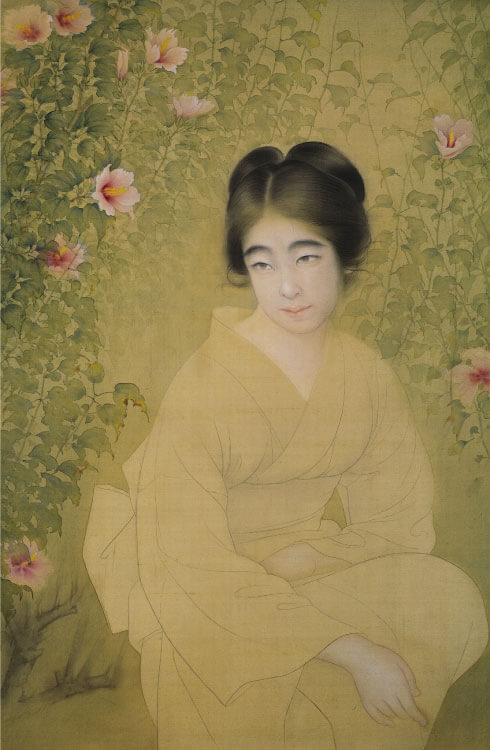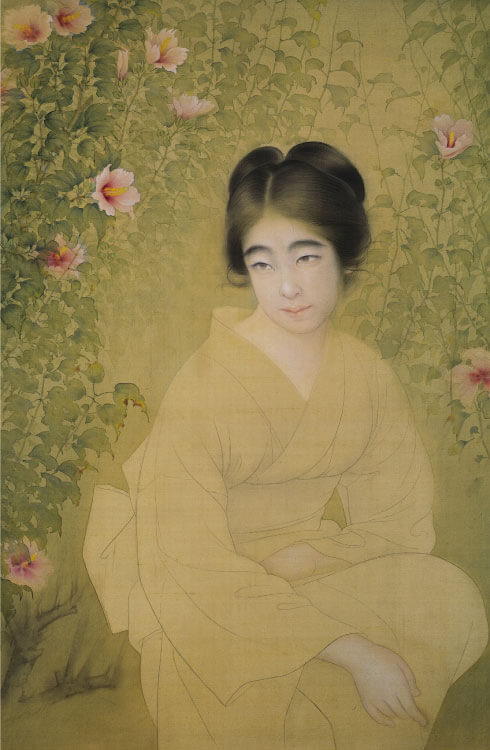 Roses of Sharon
1923
Nishiyama Suisho (1879-1958)
Work Descriptions
A young woman is surrounded by magenta rose of Sharon flowers as she sits. She has ample black hair, thick, dark eyebrows, almond-shaped eyes and pink lips. She wears a plain, narrow-sleeved cotton kimono with a plain kimono sash. There is a sense of a deep adoration for her refreshing yet fleeting beauty, as if she were the personification of the flower spirit of the Rose of Sharon that bloom in the morning and fade in the evening.
1923
Pigment on silk; hanging scroll
129.0 × 85.0 cm
Nishiyama Suisho
Nishiyama Suisho was born in Kyoto City. He studied under Takeuchi Seiho, and also studied at the Kyoto City School of Arts and Crafts. He earned a reputation as one of the "three geniuses" to study under Takeuchi. Nishiyama presided over his private school of painting and turned out many leading artists. He took pride in the realistic style that he inherited from his teacher and his wide range of work, and was a prominent figure in the Kyoto art scene.