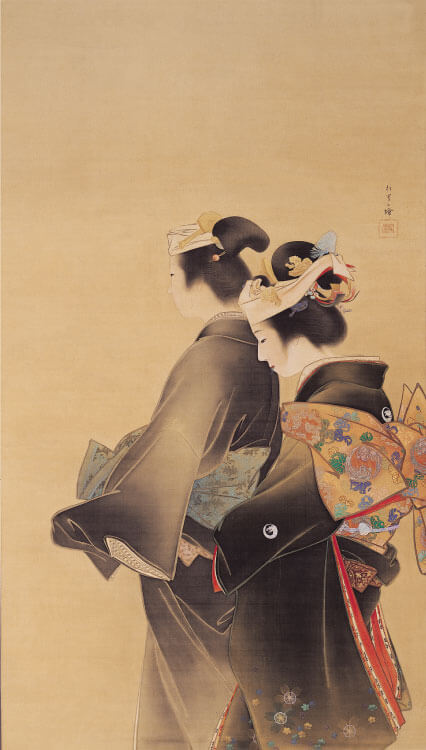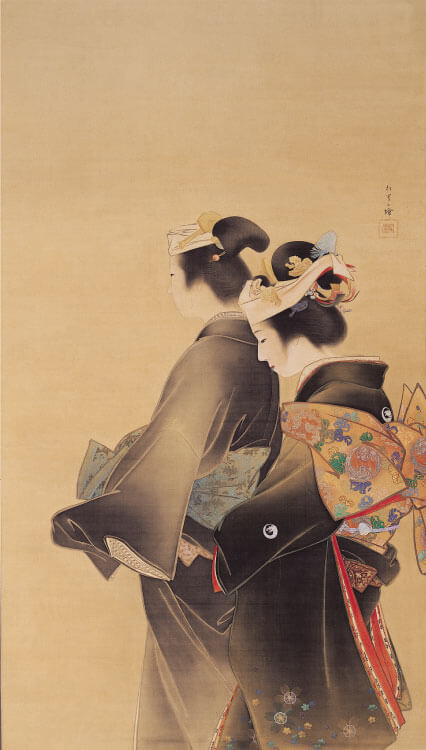 The Flowers of Life
1899
Uemura Shoen (1875-1949)
Work Descriptions
The artist skillfully captured the emotions of both a bride, who is seemingly shy with her head down and experiencing a mix of anxiety and joy, and a resolute mother guiding her daughter. This piece illustrates customs of the late Edo period (1603–1868) such as the shaved eyebrows and iridescent, dark lipstick on the lower lips, and customs of the Meiji period (1868–1912) such as the black long-sleeved formal kimono, which were often worn as the wedding garments.
1899
Pigment on silk; hanging scroll
175.5 × 101.0 cm
Uemura Shoen
Uemura Shoen was born in Kyoto City. After studying underSuzuki Shonen at the Kyoto Prefectural School of Painting, she trained under Kono Baireiand studied under Takeuchi Seiho later on. She carved out a unique artistic niche with tradition-based renderings of the female figure nonetheless created from the distinct viewpoint of a female artist. In 1948, she became the first woman to receive the Order of Cultural Merit.