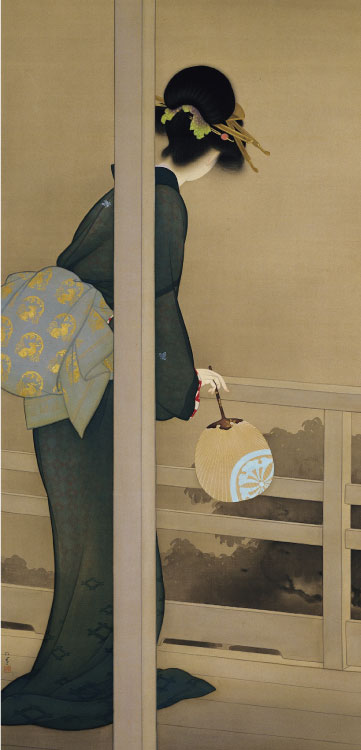 Waiting for the Moon
1926
Uemura Shoen (1875-1949)
Work Descriptions
Note the beautiful, slender appearance of the woman from behind as she gazes at the twilight sky from the veranda. The rabbit-and-wave pattern on her kimono sash goes well with her black gauze kimono, and her fan features a worm-eaten ginkgo leaf pattern enclosed in a circle. These cultural and seasonal clues suggest that she is waiting for the moon to appear in the autumn. The pillar that passes through the top and bottom of the painting emphasizes the portrait orientation and lends a feeling of depth to the space depicted in the painting.
1926
Pigment on silk; hanging scroll
193.2 × 92.8 cm
Uemura Shoen
Uemura Shoen was born in Kyoto City. After studying underSuzuki Shonen at the Kyoto Prefectural School of Painting, she trained under Kono Baireiand studied under Takeuchi Seiho later on. She carved out a unique artistic niche with tradition-based renderings of the female figure nonetheless created from the distinct viewpoint of a female artist. In 1948, she became the first woman to receive the Order of Cultural Merit.