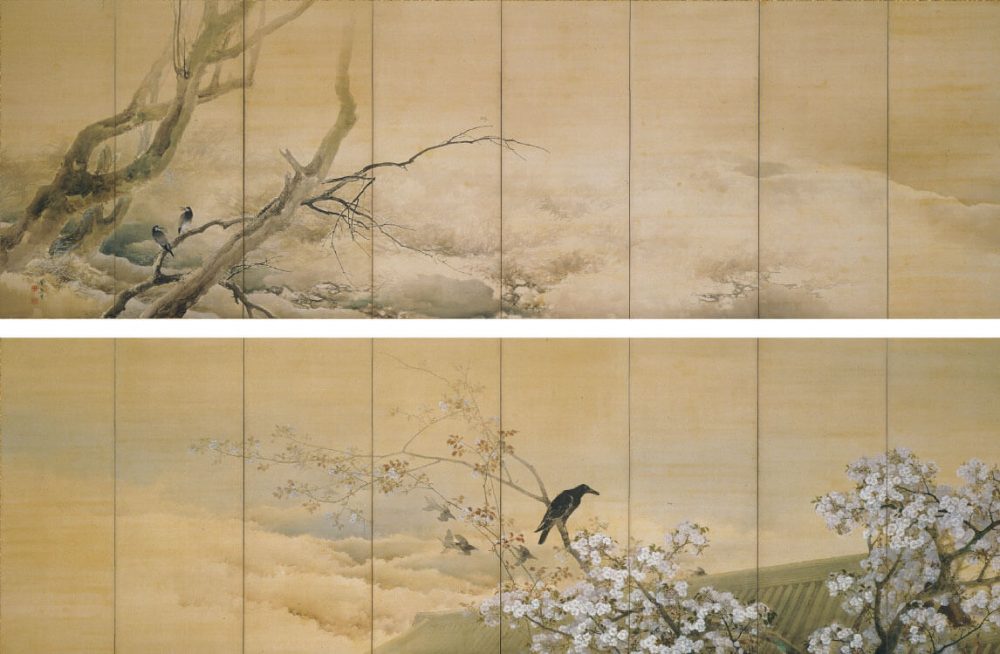 Spring Evening, Frosty Morning
1903
Kikuchi Hobun (1862-1918)
Work Descriptions
On the right screen, a flock of birds rushes to roost across the vast, springtime evening sky as a crow rests its wings in the foreground. Under the crow's feet, two sparrows seek camouflage behind the cherry blossoms. The left screen depicts a frosty winter morning with a harsh coldness in the air that has frozen the plants and streams. Still, the presence of the pair of gray starlings suggests that spring is on the way.
1903
Pigment on silk; pair of eight-fold screens
158.5 × 485.0 cm each

below: left bottom: right
Kikuchi Hobun
Kikuchi Hobun was born in Osaka City. He studied under Kono Bairei. Kikuchi adhered to the Shijo school style, yet employed novel compositions and bright colors in his paintings of flowers and birds. He was particularly famed for his expertise in depicting cherry blossoms.