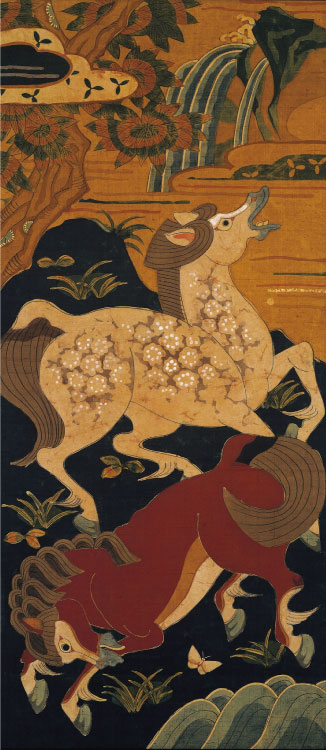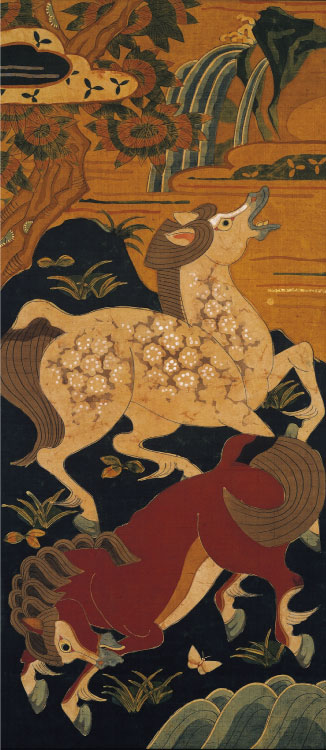 Framed Dyed Fabric: Two Horses
1935
Ogo Tomonosuke (1898-1966)
Work Descriptions
Two horses neigh in the center of the frame. In the background, mist shrouds an old, moss-covered tree, and a waterfall tumbles from an outcropping. The varied and boldly stylized motifs are expertly expressed in portrait orientation through wax-resist dyeing. The simple, vibrant shapes and rich color tones bring to mind printed cotton and folk paintings, and create a distinct flavor to this piece.
1935
Wax resist dyeing on silk; framed
162.0 × 72.0 cm
Ogo Tomonosuke
Ogo Tomonosuke was born in Kyoto City. After graduating from the Kyoto City School of Arts and Crafts, he studied both Japanese-style and Western-style painting. Later, he aspired to become a dye artist and won his first prize at the Imperial Academy Art Exhibition. He worked with wax-resist dyeing, with designs featuring bold color tones in the style of printed cotton. After the war, he selected natural phenomena as his themes, and developed a style brimming with a distinct poetic sentiment of thick outlines and bold, abstracted shapes.