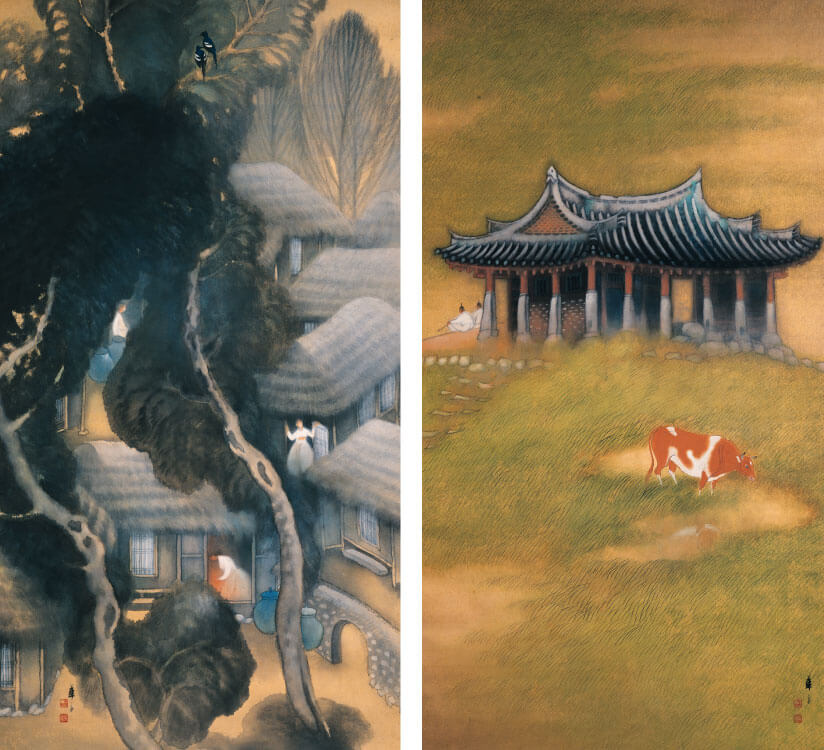 Morning in Dongnae Village, Evening at Mansanaidae in Pusan
1920
Tsuji Kako (1870-1931)
Work Descriptions
The left screen shows women preparing breakfast, and the right screen shows men spending the day with cows eating grass on a hilltop. The white of the people's clothing is eye-catching amidst the dominant shades of blue, green and brown.Tsuji Kako visited Korea to research their customs, and painted the landscape of a foreign country with bold composition in a portrait orientation.
1920
Pigment on paper; pair of hanging scrolls
168.1 × 90.5 cm each
Tsuji Kako
Tsuji Kako was born in Kyoto City. He studied under Kono Baireiand was regarded as one of Kono's four best painting students. He exhibited from the 1st Ministry of Education Art Exhibition and received great results. He devoted himself to Zen Buddhism, and practiced Zen meditation with Monk Mokurai at Kennin-ji Temple. He incorporated spirituality into his work, yet also proactively employed new techniques to convey the influence of Western paintings in his exploration of innovative styles.