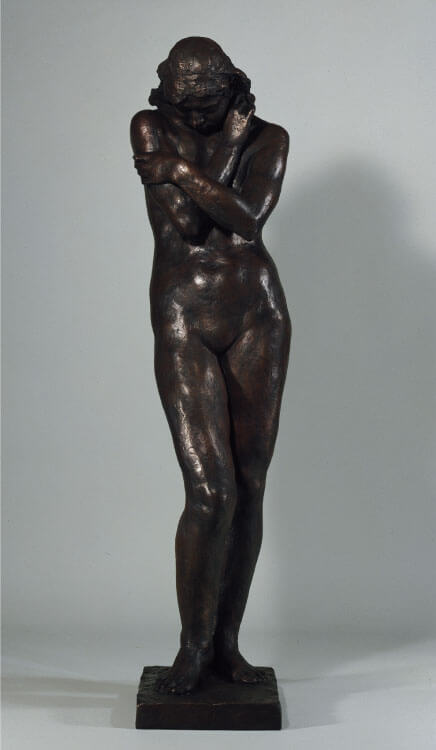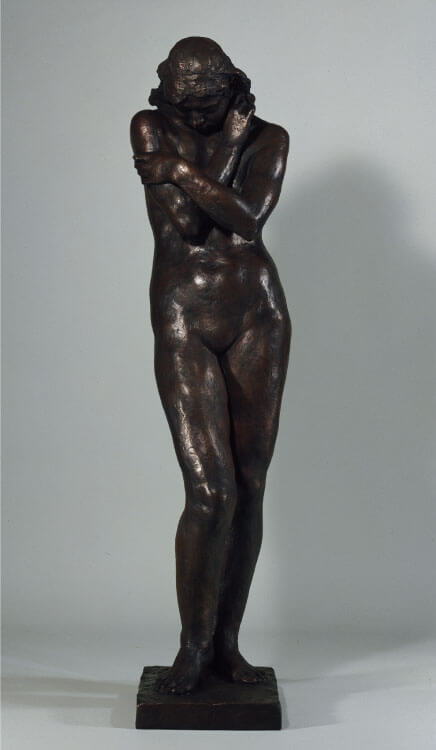 Dream
1939
Tatehata Taimu (1880-1942)
Work Descriptions
A young woman stands with her hips tilted, her right knee pointed forward slightly. Her face is down, and she holds her hair with her left hand. Her right hand embraces her left arm, and her shoulders are huddled. The natural form of her body exhibits a beautiful symmetry from head to toe, as well as a palpable transience; she appears ready to vanish like a dream.
1939
Plaster, bronze; one of each
163.0 × 37.0 × 43.0 cm
Tatehata Taimu
Tatehata Taimu was born in Aridagawa Town, Wakayama Prefecture. Tatehata studied at the Kyoto City School of Arts and Crafts, and studied sculpting under Shirai Uzan at the Tokyo School of Fine Arts. Tatehata is known for the moderate realism of the female figure sculptures, and was considered one of the top three sculptors along with Fumio Asamura and Seibo Kitamura at government sponsored juried exhibitions.