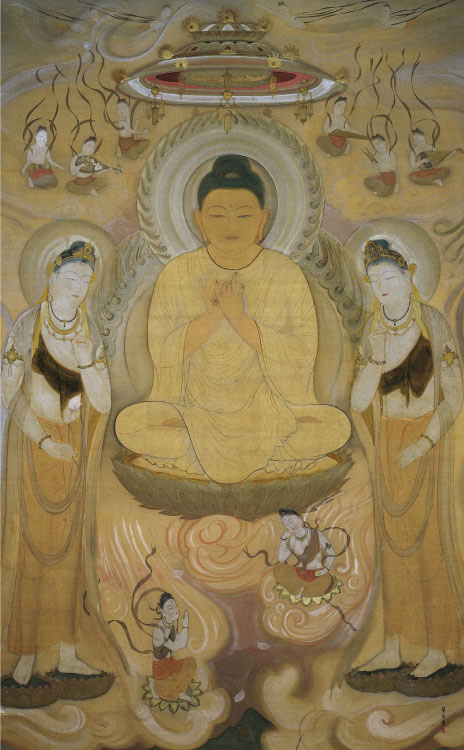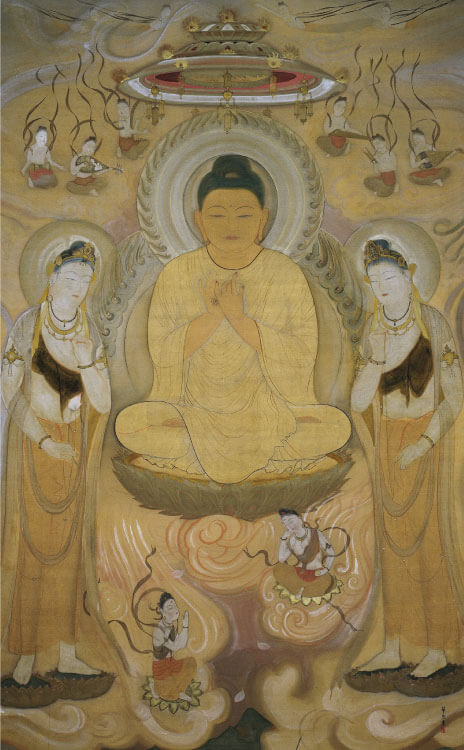 Amitabha, the Buddha of Infinite Light
1916
Murakami Kagaku (1888-1939)
Work Descriptions
Nearly symmetrical attendant statues flank Amitabha as heavenly beings fly overhead and underfoot. The murals of the main hall of Horyu-ji Temple were used as a reference for the palpable impacts of the upright attendant statues as well as Amitabha's gesture that symbolizes an invitation to a sermon, all of which seem to target the viewer head-on. The painting glimmers with originality and a hint of enchantment in the mild form of the statue, the color scheme and the graceful outlines. This painting earned a special award at the 10th Ministry of Education Art Exhibition.
1916
Pigment on silk; hanging scroll with box, authenticated by IRIE, Hako
209.2 × 130.8 cm
Murakami Kagaku
Murakami Kagaku was born in Osaka City. He studied at thethe Kyoto City School of Painting. Murakami took part in the establishment of the Kokuga-Sosaku Japanese Painting Association. In 1923, Murakami's chronic illness worsened, and he relocated to Ashiya City. When he returned to his adoptive home in Hanakuma in 1927, he severed ties to the painting scene. He painted wilderness landscapes, Buddhist paintings, peony flowers and more, mainly for solo exhibitions.